Over the course of the last couple of days, news has surfaced about how the Ward 15 portion of Old Brooklyn and the entire Brooklyn Centre neighborhood may potentially be impacted by the political redistricting to take effect in 2010. The plan for new ward boundaries is to be completed and adopted by Cleveland City Council by April 1.
Here's somewhat of a timeline of recent events and developments relating to Ward 15:
* On Wednesday evening, Councilmen Brian Cummins, Matt Zone, and Joe Santiago held a public meeting at Applewood Center to educate community members about the redistricting process and garner input about what should be considered in the redrawing of wards. No new information about what is being proposed was presented, despite the fact that draft ward boundaries had likely been prepared prior to the community meeting. However, Councilman Santiago eluded that his ward will gain 2,200 residents. Attendees commonly remarked that the process should be transparent and inclusive, and that neighborhoods should not be divided politically. Anthony Fossaceca at Ohio Daily Blog has a full recap of the meeting, as well as videos
here
.
* Thursday afternoon, Cummins met with consultants to discover that they favor a plan to splice Ward 15 into three parts that would be incorporated into Tony Brancatelli's Ward 12, Joe Cimperman's Ward 13, Santiago's Ward 14, and Kevin Kelley's Ward 16.
He posted on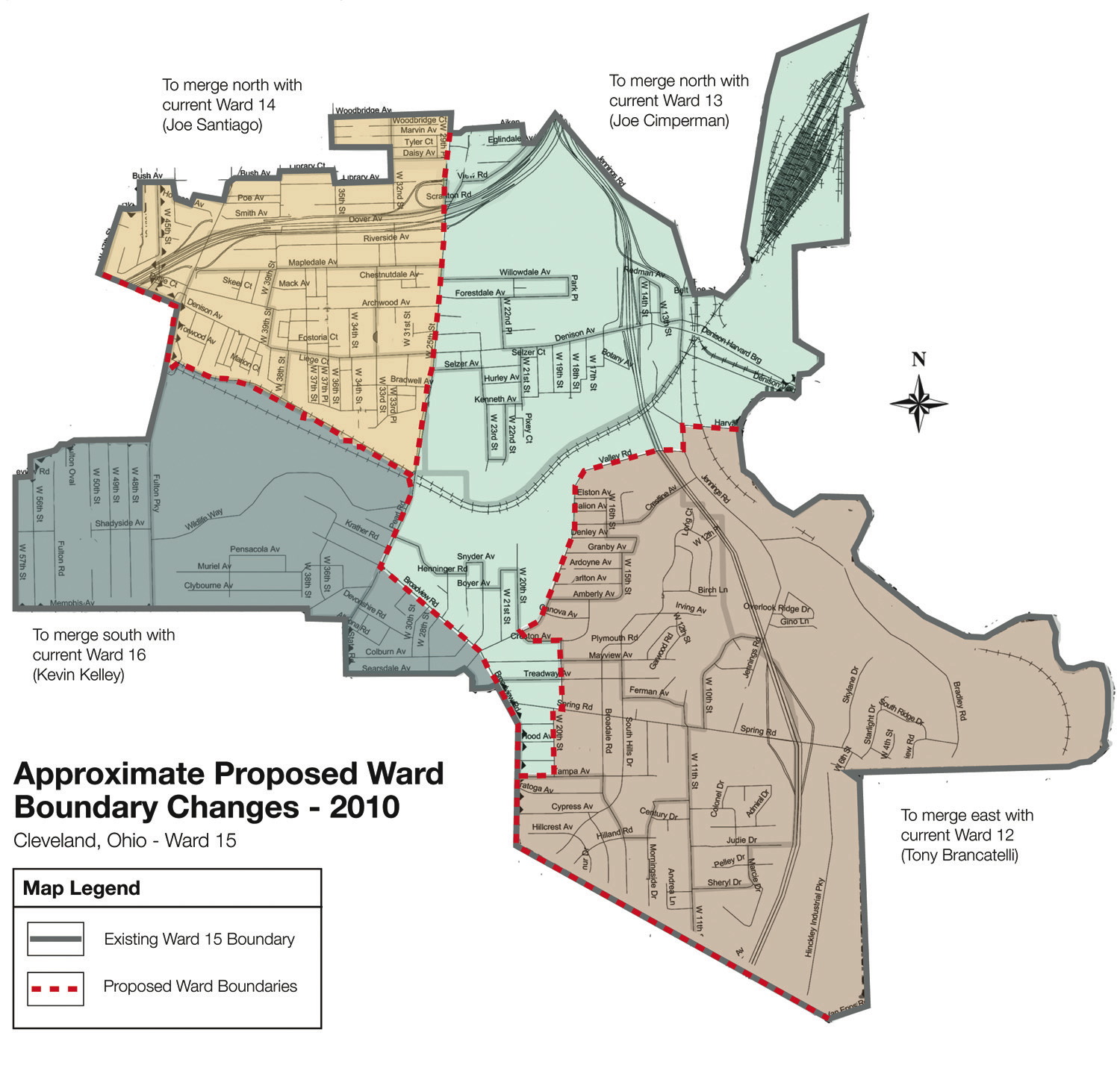 RealNEO.us
that, under the plan conveyed to him, the area bounded by Valley Road to the east, Pearl Road to the west and Broadview Road to the south would be incorporated into Ward 13 (which includes parts of Downtown, Tremont, Ohio City, and St. Clair-Superior); Ward 12 (Slavic Village on the city's Near East Side) would encompass the South Hills neighborhood; and, the south and northwest portions of Old Brooklyn would become Ward 16. Additionally, the Brooklyn Centre neighborhood would be divided along Pearl Road, with the western portion going to a new Majority-Minority Hispanic Ward 14 and the eastern part apportioned to Ward 13.
*
Henry Gomez of the Plain Dealer states
, "One of the consultants, Bob Dykes, said that the plan should not be seen as a slight to Cummins, a constant thorn in Council President Martin J. Sweeney's side." Cummins has been an outspoken critic of Sweeney, adding speculation that this is a retaliatory and retributive act to rid the council president and Ward 20 representative of his rival.
* Cummins writes in his post, "After a long and spirited discussion (after I explained what is proposed and after the official civic association meeting - a 501c3), there was, and now continues to be actions in organizing protests at City Hall this coming Monday and every Monday thereafter until these extreme measures to break-up these neighborhoods are reversed or at a minimum tempered so as not to damage both of them so brutally." Tim Ferris from Brooklyn Centre has posted on the Save Our Land Blog that
Ward 15 community leaders are organizing concerned residents
on Monday, March 16 at 6pm at Gino's on Denison Avenue at I-176. They will be going be loading onto busses to fight the proposed redistricting plan before Cleveland City Council. Further details will be posted on OB Blogs as they become available.
UPDATE 3/8/09:
Councilman Cummins has posted a map of what Ward 15 may look like
if the current proposal is implemented.